Well, the month of May is just around the corner which means most people in France will be enjoying a holiday or three. Some of you might remember our Guide to the (Multiple) French Holidays in May!
As the days are getting longer and warmer we thought we'd take a look at our calendars to see what festivals and other events are in store for the next few weeks …
Monday 1 May – the Fête du Travail public holiday – possibly the only day of the year in France when almost everything is closed!
Monday 8 May – a bank holiday to celebrate Victory in Europe. Some shops might be open in the morning but otherwise it's a day off work for all public services commemorating the end of World War II.
Expect the 25 to 28 May to be busy on the roads and beaches, or for shopping and restaurant reservations. Thursday 25 May is another public holiday (Ascension Day) meaning that a lot of people will take Friday 26 May as a "Jour de Pont" (a bridge day) and make it a 4-day weekend.
17 to 28 May – the 70th annual Cannes Film Festival, which is not just focused on film this year. It will be screening episodes from two TV productions and former winners of its highest honour, the Palme D'Or: Jane Campion's 'Top of the Lake', and David Lynch's 'Twin Peaks'.
25 to 28 May – also on the Riviera there's the exhilarating Monaco Grand Prix – the one race of the year that every racing driver dreams of winning.
Sunday 28 May – the Fête des Mères (Mother's Day)
31 May to 5 June – the Feria de Nîmes – at the time of writing the full programme is not yet available, but the biggest stars of bullfighting are expected in the arena. La Feria is not everyone's cup of tea, but nonetheless a very traditional event in the regional calendar.
2, 3 & 4 June – France will be celebrating a Jardins Ouverts (Open Gardens Weekend) – there are some magnificent parks and gardens in and around Montpellier – keep an eye on local event listings closer to the date.
5 June is Lundi de Pentecôte (Whit Monday), the last public holiday before Bastille Day in July. It's also when a lot of local restaurants will switch to longer opening hours for the summer.
Sunday 18 June – the Fête des Pères (Father's Day)
Fête de la Musique takes place 21 June – and this national festival is not easy to ignore! Cities, towns and tiny villages across France will be hosting concerts to celebrate music in all its forms.
22, 23, 24 & 25 June Cycle for Life for Cancer Support France – Renestance are a key sponsor for this event and we're all looking forward to it! Starting in the centre of Carcassonne on Thursday 22 June, the cycle ride route goes alongside the Canal du Midi through Homps to Narbonne and then along the Mediterranean coast. Renestance will be welcoming the cyclists to the finish line in Sète on Sunday 25 June. It promises to be a great event and a lot of fun.
You don't need to be an experienced cyclist to take part (you can even hire an electric-assist bike!) and it's free to join – whether you cycle just one day or take part in all four. If you are interested in showing your support for this amazing association contact admin@cancersupportfrance.org or register your interest via www.csfcycleforlife.org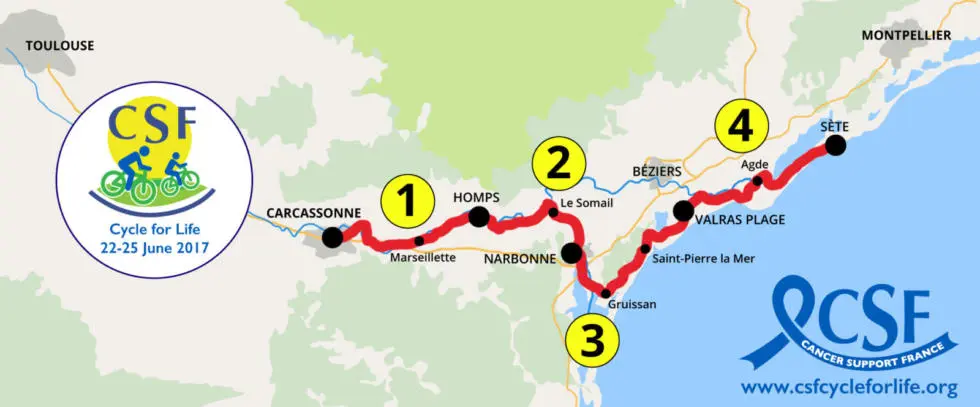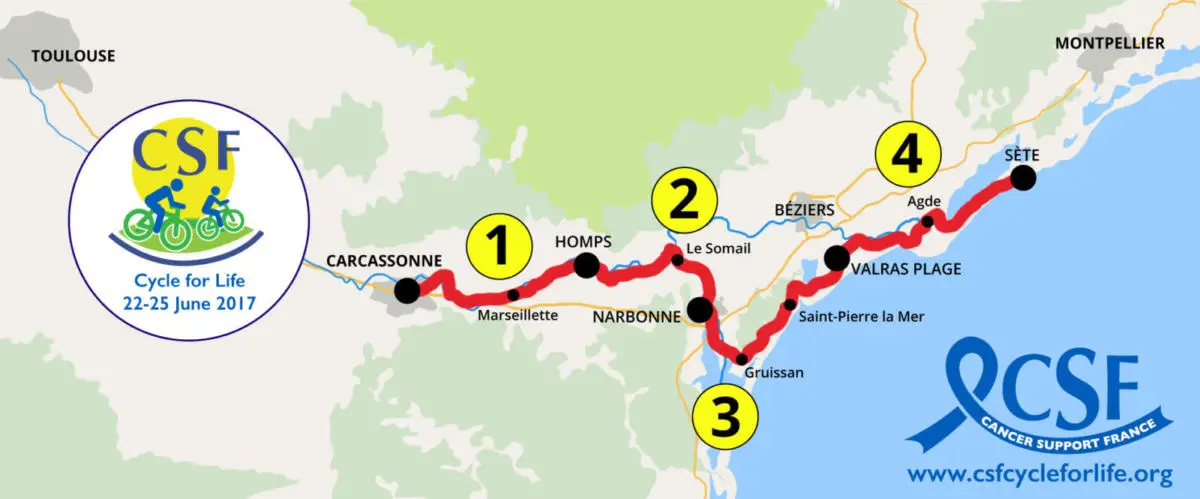 And finally, something that is quite unique to this area of France is the Abrivado! From June onwards, many towns and villages host an event often referred to as the Abrivado, or 'running of the bulls'. You will see a group of magnificent Camargue horses stear young bulls as they charge freely down the street to an enclosure. It's also an occasion for young men of the village to test their strength by trying to catch the bull and stopping it in the street. It is a long-standing tradition, based on the annual guiding of fully grown bulls to or from the bull-fighting arena through towns and villages of southern Languedoc.
A modern-day Fête Votive / Taurine is quite a spectacle, often with live music and a street party, popular with residents and tourists alike. Check with the local mairie or tourist office for dates one may be coming to a town near you.
Annette is Renestance's 'go to' girl for all things marketing and social media. Bilingual and originally from Surrey in the UK, Annette has lived in France since 2008. In addition to her web design and marketing consultancy, Annette is the founder of Languedoc Jelly (a network of free events across the region for anyone working from home) and also Urban Sketchers Languedoc (part of a global community of people that like to draw or paint on location). A fan of all things French and Franglaise, she also has a Citroen 2CV called Beryl.
All articles by: Annette Morris