From 23-25 October we are delighted to be participating in this year's Live and Invest in France Conference in Paris. The event, organised by Kathleen Peddicord and her team, is an exclusive opportunity to get to know France in a way that's simply not possible by many other means.
For North American and other non-EU citizens looking to start a new life in France, this conference is a fantastic introduction to some of the top resources in the country. After three information-packed days we guarantee that no-one could be better prepared to renest and invest in France … regardless of the lifestyle you're seeking. Based on past experience, some attendees will even begin the visa process during the event… or open accounts… or even buy a home!
World's Best Quality Of Life
World's Best Health Care
World's Most Beautiful, Most Romantic City
The Good Life Defined…!
This is your chance to have every one of your questions answered by people who know from first hand experience what they're talking about!
Should you become a permanent resident? If you decide to, how would you qualify?
What is required to open a bank account?
Which options are available for private health insurance?
What about France's public healthcare coverage? It's the best in the world and can be free. Can you qualify to join?
Do foreigner have the same financing options as French citizens? How much could you borrow… how would you qualify… what terms are available?
What are your best options for learning French?
Where should buy today for investment?…
What return could you expect from a rental property?
What about French taxes?
How would you undertake a country house renovation? What would it cost?
What are the opportunities for you to connect with the expat communities in France?
Jen and I will be there providing advice on renesting in France and specifics about life in the Languedoc.
We'll also be leading a full-day tour of good places for investment in Paris, while providing insider tips on life in those quartiers. This is a unique opportunity, as custom tours like this are not usually available.
Real Estate and Real Life — Saturday, October 21 10 AM – 4 PM — ONE DAY ONLY!
Walking tour (plus some public transportation) with bilingual American guides and licensed real estate agents
Covers 3 of the most appreciated quartiers, including info on their real estate markets, property construction/design
Visit 1 'typical' apartment for sale in each quartier with a licensed professional
Get loads of insiders tips on daily life and French culture throughout the day
Lunch at a classic Parisian bistro included
Written guide for reminders, notes and additional resources
€300 per person, €450 per couple
12 spots available
If you want to join us for this rare opportunity to get the insider scoop on Real Estate and Real Life in Paris, please fill out the signup form at the bottom of this page.
For the conference: Sign up now to get the best price and to grab one of the VIP slots, while both are still available. With the early bird discount the cost of admission is reduced to US$845 for one person and only US$1,095 for two. In other words, your guest attends for only US$250.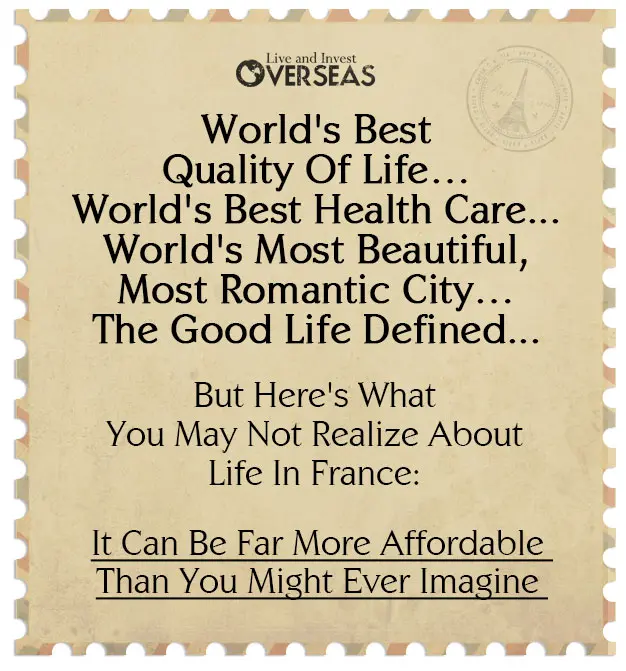 The vacation of a lifetime!
Paris is one of the world's most popular tourist destinations. The City of Light offers a vast range of attractions and activities from museum hopping to upscale shopping to café lounging to sightseeing and on and on…
While in Paris, the possibilities are endless. And, from a central location in the 10th arrondissement, you'll benefit from easy access to visit some of this city's world-renowned tourist attractions, like the Notre-Dame Cathedral, Musee du Louvre, the Eiffel Tower, Musée d'Orsay, Jardin du Luxembourg, and so much more…
Where to stay
The Hôtel Provinces Opéra located in Paris' 10th arrondissement, is the site of this year's Live and Invest in France Conference.
Special room rates have been negotiated for attendees of the event. To take advantage of these special rates, reservations must be made through Live and Invest Overseas. Contact FranceConference@LiveandInvestOverseas.com or dial toll-free from the U.S. at 1-888-627-8834 to make your reservation.
We look forward to seeing you there!
Dennelle is the President of Renestance and a bilingual American who's lived in France since 2000. She loves so many things about France, its language, culture, geography, quality of life... that she started a business to help others realize their dreams of living in this incredible place.
All articles by: Dennelle Taylor Nizoux