"I never know what she's doing back there!" is one of Alex's and my favorite movie quotes (do you remember it from Wedding Crashers?) and could reflect what many of you wonder about the Renestance team. As we all work from home offices, even our families sometimes suspect that we don't 'really work'. So I'm going to use this space to not only defend all of our efforts, but also to give you a glimpse behind the curtain at a typical week here at Renestance.
Over the past seven business days, we have been full-on. Lots of new leads have come in and there are still new services that we are itching to finalize and launch. This means that Dennelle often forgets to take lunch, Nicole is using social media more for work than play, and Jen allows her kids way more screen time than usual (at least they're out of her hair!). As no two days are ever the same, this selection of stuff done over the last week is as close to a typical week as one could hope for:
The Fun Stuff
Jen, Annette and Dennelle discussed final steps to formally launch the Migration Consultation service.
Dennelle followed up by phone with future New Nesters on the West Coast of the US
…and got to take newly arrived clients to check out a flat in Sète and visit Frontignan*.
D also reviewed clients' answers to questionnaires ahead of scheduled consultations
…and put the sales hat on to propose Renestance services to a couple looking to move from Vietnam, a man whose elderly mother needs assistance settling in, and a UK couple with several projects in France.
Nicole accompanied New Nesters from America to pick up their new car and finalize the paperwork
…and answered personal questions coming through the blog about health coverage for adult students and cancer treatment.
N also reached out into the community to find possible long-term lets available for our clients.
Jen assisted an American couple solve the problems accumulated with their stay visas
…and continues to help another client trace her origins back to her French-born mother so she can obtain French nationality.
Annette explored a possible partnership with an expat in Bordeaux
…and is reading a book on France written by an expat to see if we can promote it.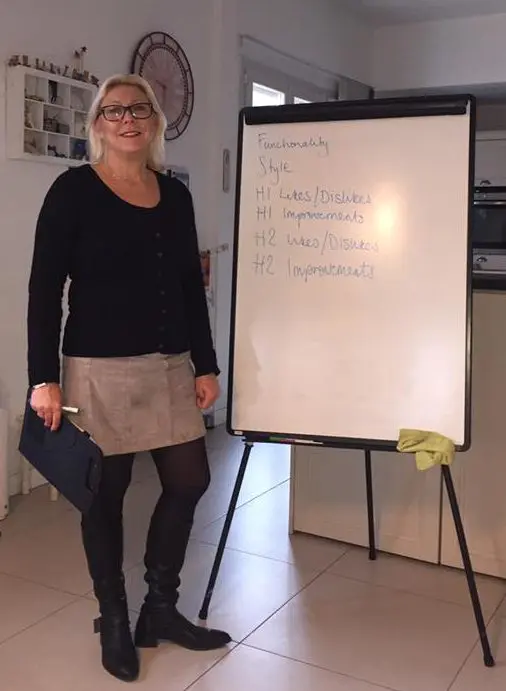 The Necessary Evils (but sometimes still kinda fun)
Dennelle met with a local financing initiative
…and got to troubleshoot software problems with Zoho tech support (no part of that was fun).
Jen was implementing improvements to the Health Reports captured during focus groups.
Nicole accompanied the insurance inspector to a client's house while she's in Australia.
Annette analyzed the website and social media traffic data.
Alex and Dennelle discussed website revamp requirements before requesting quotes.
Sara had the joy of scanning 15 pages of expense receipts for the accountants (woo-hoo!).
Dennelle discussed and contracted with a French digital lawyer for website legalities.
Nicole, Jen and Dennelle detailed the file structure of our online drive to make sure we all know where to save what information
…and the whole team covered business and pleasure on the Monday weekly team call.
As you can see, most of the fun stuff involves interactions with our lovely clients and partners. The team also has fun working together, don't get me wrong, and in the background of all this activity are running chat channels. It's easy for this level of busy-ness to get overwhelming, but we take turns sympathizing and supporting each other because we all believe in Renestance's mission. Looking forward to bringing you the fruit of our labor!
*Here's a link to Julie's blog article about house-hunting in France.
Dennelle is the President of Renestance and a bilingual American who's lived in France since 2000. She loves so many things about France, its language, culture, geography, quality of life... that she started a business to help others realize their dreams of living in this incredible place.
All articles by: Dennelle Taylor Nizoux